Why go there?
Kommunizma Peak stands at the junction of the Akademii Nauk (Academy of Sciences) and Pyotr Pervy (Peter the Great) Ranges in the north-west part of the Pamirs.
It was Ivan Dorofeev, a Russian military topographer, who did all the surveying of the central part of the Fedchenko Glacer together with the adjoining peaks (which remained unclimbed by then).
The exact coordinates and altitude of the highest one, 7495m, were confirmed only in 1929. In 1931 it was named after Stalin, in 1961 called Kommunizm and in 1999 — Somoni (Tajik).
There are dozens of climbing routes on the peak, of the highest grades (from 5A to 6B). The most popular, so not among the hardest, are two: Borodkina Route from the Valter Glacier (the northern side) and «Burevestnik» from the Fortambek Glacier (the western one).
And one of the hardest starts from the Belyaev Glacier and goes up the 2km high rock wall with the steepness over 80°
The easiest route is from the Bivachny Glacier.
When going to 7000m do not rely on your youth (in case you are young), or on your well-preserved health (if you are not in your first youth)! For several months do more or less systematic training, simple jogging is perfect for that. Despite the fact that the route is not technical, two factors, the unpredictable Pamirs' weather and the altitude, can make the climb quite a challenge even for seasoned climbers. You should not regard it as just a «snow plod». The success depends on your fitness, well planned acclimatization period, right set of gear, good guides and, last but not least, a bit of luck.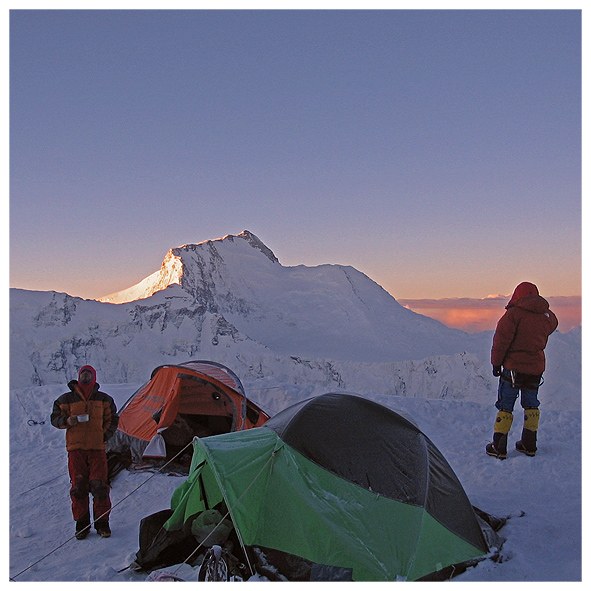 Itinerary
Day 1     Arrival in Dushanbe. Hotel accommodation.
Day 2     Helicopter flight to Moskvina Glade (4400m). Accommodation in Base Camp (BC).
Day 3     Rest, preparations and acclimatization in BC.
Day 4     Acclimatizing climb of Vorobyova Peak (5691m) with camp at 5300m.
Day 5     Ascent of Vorobyova Peak, descent to BC.
Day 6     Rest day
Day 7     Acclimatizing outing to Kommunizma Peak. Ascent to Camp 1 (5100m). We go along the right bank of the Valter Glacier to reach the «helicopter pad», cross then the glacier under the foot of Borodkin Spur. As fast as possible we run over the «pillow» of the glacier (due to a snow-ice falls danger) and start to follow up the Spur to get to Camp 1 at 5100m (2-3 fixed ropes will be used).
Day 8     Ascent to Camp 2 (5600m) goes up a wide snow ridge not steeper than 40°. Yet some seracs, crevasses and snow bridges demand attention. Depending on the snow conditions, up to 7 fixed ropes can be useful here. The Camp is either at 5600m, or at 5800m, safely under a huge serac.
Day 9     Descend to BC
Day 10     Rest day in BC
Day 11     Rest day in BC
Day 12     Ascent to Camp 1 (5100m)
Day 13     Ascent to Camp 2 (5800m)
Day 14     Ascent to Camp 3 on the Pamir Firn Plateau (6100m). Early in the morning we rope up and start to move towards the double-headed summit, called «Tits». We traverse its slope towards its ridge (6250m) and from the latter descend to a rocky outcrop with «Camp Vostok», or Camp 3 (6100m) under it. 6-7 ropes may be used on the ascent to the Plateau. There may be some crevasses here.
Day 15     Ascent to Camp 4 on Dushanbe peak (6900m). Technically not difficult again, yet we move roped up on snow and ice. For lack of time or if tired, we can pitch a camp earlier: at 6400m or 6700m.
Day 16     Ascent day — to 7495m. Today it is more difficult: a steep snow and hard snow slope, then the ice-snow «knife» of the summit ridge. The summit is a small rocky platform with a lot of tablets.
Day 17     Descent to Camp 2 (5800m)
Day 18     Descent to BC
Day 19     Reserve day
Day 20     Reserve day
Day 21     Reserve day
Day 22     Reserve day
Day 23     Reserve day
Day 24     Reserve day
Day 25     Reserve day
Day 26     Flight to Dushanbe/home