In more detail about  all programs to Tibet, Nepal and Bhutan you can read on my special website http://travel-tibet.org/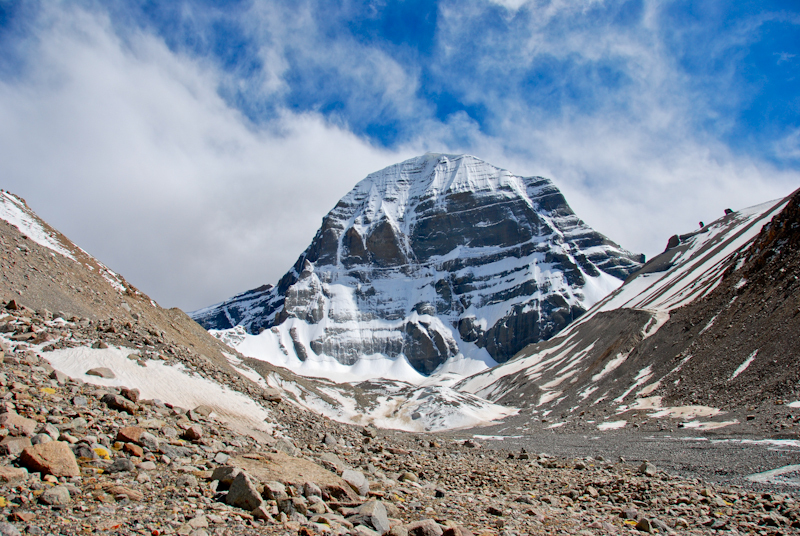 DAY 01: Arrive Kathmandu, stay overnight at hotel. You can book on your own or I will help you to book so let me know your budget for hotel ( I mean which categories hotel)
DAY 02: Free day or you can take our sightseeing tour this will cost you extra USD 20 per person. This day I make permits and visa for the trip.
DAY 03: KATHMANDU TO NYALAM (3700METERS)
We start our journey at 5:00 in the morning by bus, stopping in Dhulikhel for breakfast. After breakfast, the road goes through the valleys of the Sunkosi and Bhotakosi River with lush green countryside and dramatic cliffs, also the world's second highest bungee jumping spot. We will be Nepal/Tibet border in the afternoon and do our lunch at Nepal side border. We go and stay on a line for immigration formalities at friendship bridge of Nepal/Tibet. After customs clearance we drive to Nyalam. Overnight stay at local hotel/guest house.
DAY 04: NYALAM ACCLIMATIZATION DAY
This day gives us a chance to relax and acclimatize to the high altitude in Nyalam (3700m). It is important to stay hydrated and extremely aware of your body's physical condition. Overnight at guesthouse.
DAY 05: NYALAM TO SAGA (4400METERS)
After early morning breakfast, we start to drive our journey. The road climbs up to La Lung La Pass (5050M) stop a while to take photographs of Panorama Himalayas, and then drops down before heading to the western part of Tibet. The driving is difficult, but the stunning views of the Himalayas, particular Shisha Pangma (8012m), more than make up for the rough travel. By late afternoon we cross Bhramaputra River and a quick short drive to Saga. We do lunch break between Nyalam and Saga, called Phikucho/Pikucho Lake. Overnight stay at Hotel/Guest house.
DAY 06: SAGA TO PARYANG (4610METERS)
Our jeeps and trucks rock and roll through the dramatic valleys following various rivers with grazing lands of yaks and sheep. The landscape is perfect, highlighted by snowcapped peaks and sand dunes. The sight of huge Sand dunes along the way is a treat to the eyes. Many Tibetan nomads and traders in traditional dress inhabit at Paryang. Overnight stay at Mud House.
DAY 07: PARYANG TO LAKE MANASAROVAR (4500METERS)
This is one of the longest driving days of the trip. By late afternoon the drive through the green pastures and massive valleys and will be arrived at small kailash gives way to the first sighting of Mount Kailash and blue waters of Lake Manasarovar and stop a while at small kailash and do our homage to Kailash Parbat, first time in one's life. Then we will drive around the lake. Lake Manasarovar is considered the holiest of all of Tibet's many lakes. According to Hindu and Buddhist cosmology, the four great rivers of the Indian sub-continent (the Brahmaputra, Sutlej, Ganges, and Indus) all originate from its shores. The day offers a wonderful opportunity to visit the great lake and take in the spectacular views of Mt. Gurula Mandhata (7728M) to the south and Kailash to the north. From there we will visit the Trugo monastery before heading to the Chiu monastery for an overnight stay at Mud house/tents. A short acclimatization hike to Chiu Monastery will help body to adjust further, and also can see the beauty of this small worship-place.
DAY 08: MANASAROVAR TO TARCHEN (4800METERS)
In the morning, Mission Eco Trek's staff will set up private bathing tent on the shores of Lake Manasarovar for traditional sacred bath; most pilgrims perform before Parikrama/Cora of holy mountain Kailash. Once so cleansed, we will perform Puja and Home (the fire Ceremony with Mantra/Chants). After the fire ceremony we do have Prasad (the sacred food) and lunch. In the late afternoon, we drive head north towards Tarchen, a village considered the base camp of Kailash. Overnight stay at Hotel.
DAY 09: START KAILASH TREK — DAY ONE — TREK TO DIRAPUK (4920M)
Drive to Tarbuche (trek starting point) and trek to Dirapuk, north of Kailash. Total hiking: 16km (6km driving and 10 km walking), 6-7 hours. Our first day of trekking around Kailash begins at Tarbuche. As we make our way along the route we pass numerous chortens (stupas) as well as the sky burial site of the 84 Mahasiddas. We will drive through the Yama Dwaar — the Gate of the God of Death to start the Trek (Kora). We will also take in wonderful views of cascading creeks, streaming waterfalls and the mighty west face of Kailash. We will pass the Chukku monastery and arrive at the Dirapuk monastery about six hours later, where we will stay in mud house. A short hike to see the awe inspiring north face of Kailash will be done after some rest and snacks.
DAY 10: KAILASH TREK — DAY TWO. TREK TO ZUTUL PUK (4850METERS)
Total hiking: 22km, 8-9 hours. The hardest day of the pilgrimage tour is also the holiest. We cross a rocky up hill dotted with stone cairns draped with the clothes left as offerings by pilgrims who have come before us. Further hiking ascents up to Dolma-La pass (5700m) and a marvelous sight of Gaurikunda. After a short break at the top of the pass we will head down the steep trail (two and half hour) and walk on a flat river valley(two and half hour) to our eventual campsite at Zutulpuk monastery (4790m), site of the cave of miracles where the greatest Tibetan yogi Milarepa meditated and developed the powers of flying. Along the way we will be having wonderful sights of high peaks, streams, waterfalls and mountain caves.
DAY 11: TREK LAST DAY — TREK TO END OF THE VALLEY (4550METERS)
Total Hiking: 15km (4-5 hours). On the last day of Kailash trek, a three-hour gentle downhill walk along the river brings us to where it emerges onto the Barkha plain. Our jeeps will be waiting us there, and then we drive to our camp at Lake Manasarovar where we can have thanks giving bath in the holy waters of Manasarovar again. Overnight stay at mud house/tents.
DAY 12: DRIVE BACK TO PARYANG (4610METERS)
Overnight at Guesthouse or tented camp.
DAY 13: DRIVE BACK TO SAGA (4400METERS)
Overnight at Guesthouse or tented camp.
DAY 14: DRIVE BACK TO NYALAM (3700METERS)
On the way we will see the beautiful Pigutso Lake, enjoy good view of Himalayan range including Shisapangama. Overnight at Guesthouse.
DAY 15: DRIVE BACK TO KATHMANDU (1300METERS)
Drive to Kathmandu via Zhangmu. Immigration formalities will be done at Zhangmu (Chinese Immigration office) and at Kodari (Nepalese Immigration office). Stay at Hotel on your own or let us know we will book for you.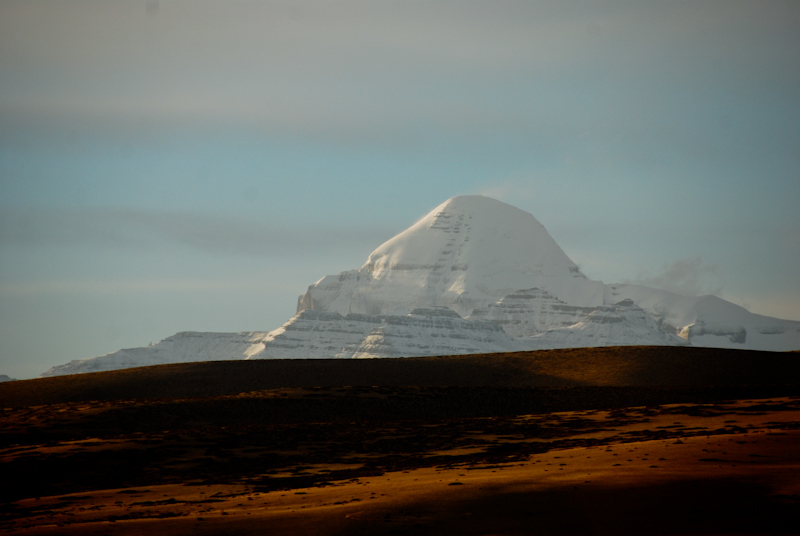 This post is also available in RU.