Khan Tengri is a beautiful mountain with a beautiful name, going back to ancient times, from the writing of Chinese monks in the 7th century. It means «Prince of the Spirits». A great number of exciting legends about this mysterious summit were composed by different people who inhabited the neighboring valleys. One of these legends says that ghosts dwelling the mountains every night kindled a huge bonfire at the summit of Khan-Tengri. The safest route up the summit leads from our Base Camp on North Inylchek Glacier. It is a little bit more difficult than the classic route (1931) but is protected from icefalls and avalanches, which haunt the climbers on the classic route. The ascent on this route lies against the background of the vigorous Northern Wall of Khan-Tengri Peak (2500 m), formed of black granite, blue ice and yellow marble, striking by its dimensions and the play of sunlight and shadows on the mountain wall. The steep ridge, offering comfortable sites for intermediate Camp 1 (4900 m) and Camp 2 (5500 m), leads to the snow-covered dome of the shoulder of Chapayev Peak. An easy slope down the wide snow ridge ends in Camp 3, usually arranged in a snow cave. The ascent shall be continued by the rock steps of West ridge. There are a few comfortable sites to set camps at altitude 6400 metres. However, this option is not often used. Usually ascents start from Camp 3. Fixed ropes will help you almost along the entire route. The months of July and August are the best time for ascending the peak.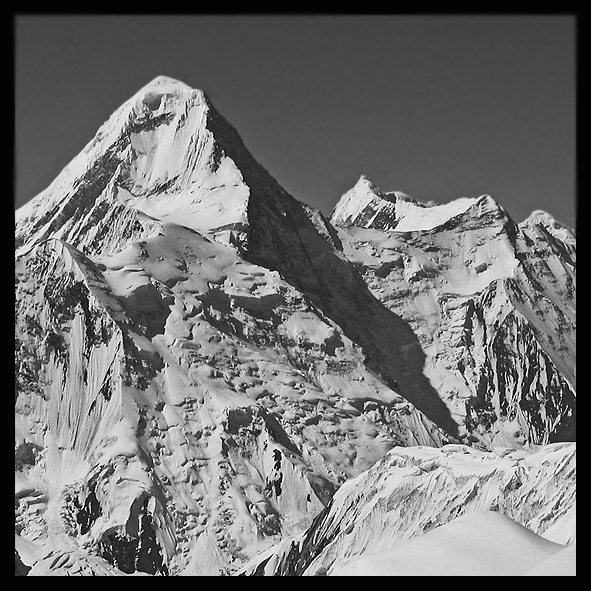 Day 1
Arrive to Almaty. Meeting at the airport. Drive to Karkara Base Camp, 280 km. Accommodation in the comfortable «walk-in tents». At leisure after the long travel.
Day 2
Acclimatization. Hiking to the neighboring hills (the highest of them is 4059 m).
Day 3 — 4
Helicopter flight (30-35 min) up to the Base Camp on North Inylchek Glacier (4000 m).
Day 5 — 21
Ascent of Khan Tengri Peak.
Day 22
Helicopter return flight to Karkara Base Camp.
Day 23
Drive to Almaty. Hotel accommodation. Ethnic and souvenir shopping.
Day 24
Transfer to airport. Fly home.