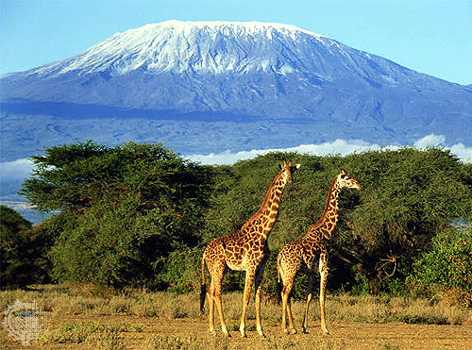 5 Days Marangu Route Trek
Day 1
Kilimanjaro Airport — Arusha
You will be met upon your arrival at Kilimanjaro Airport and transfer to Impala Hotel. Dinner at leisure not included in the tour price.
Day 2
Marangu Gate — Mandara Hut
Transferred after your morning breakfast for Marangu gate. On arrival at Marangu gate, you meet your team of guides and porters, pick up any last minute supplies for the trek, and head to the entrance of Mount Kilimanjaro National Park to register for the climb. From the cluster of buildings at the gate it is some four to five hours walk through patches of coffee plantation and dense rainforest to Mandara Hut. The forest teems with brightly-coloured bird life, colobus and other varieties of monkey. The flora includes numerous mosses, lichens and flowers, as well as delicate orchids. If the skies are clear you may have fine views over the town of Moshi lying at the edge of the plain far below. Mandara Hut is a collection of basic, A-frame mountain huts with bunk beds — quite adequate for your needs — where you inevitably meet up with fellow trekkers who are bent on the same goal. Overnight stay Mandara Hut. (Breakfast, Lunch and Dinner).
Day 3
Mandara Hut — Horombo Hut (3720 M)
The climb to Horombo hut starts off as a steep walk through the last of the rain forest and out into tussock grasslands. The walk to Horombo Hut 3,720m (12,200ft) is about 14 km with attitude gain of about 1,000m and will take anything between 5-7 hours. Overnight stay at Horombo Hut (Breakfast, Lunch and Dinner).
Day 4
Horombo to Kibo Hut
From Horombo Hut you will climb to Kibo Hut 4,703m (15,430ft), which are 13 km and take about 6-7 hours up the valley behind the huts, last water point and onto the Saddle. Overnight stay at Kibo Hut (Breakfast, Lunch and Dinner)
Day 5
Kibo to Uhuru, descend to Horombo Hut
The attempt to reach the summit begins shortly after midnight. For some 5 hours one climbs the steepest and most demanding part of the route to Gilman's point at 18,640ft on the Crater rim. The remaining 45 minutes to the highest point — UHURU PEAK is easier. The descent is far less tiring and the night is spent at Horombo Hut. (Breakfast, Lunch and Dinner)
Day 6
Horombo to Marangu gate, and back to Arusha
The decent continue past Mandara Hut to the Park Headquarters where successful climbers may now collect certificates of achievement. Thereafter transfer back to Impala Hotel Arusha for overnight. Dinner at leisure not included in the tour price.
Day 7
Arusha — Kilimanjaro
Transfer after your morning breakfast for Kilimanjaro Airport.